TRUST
Expressions of worship in the dark place, and in times of trial and suffering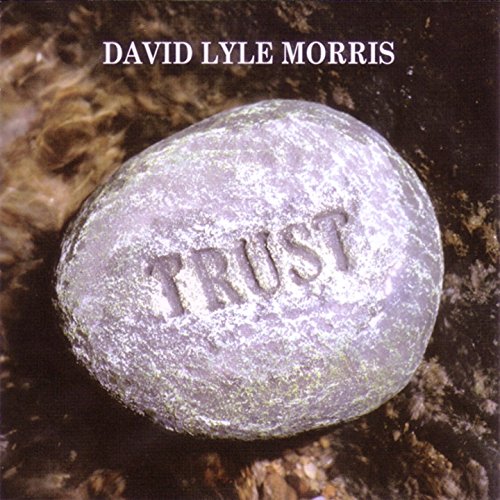 This new live album, based on Psalm 9l, is David's tenth, and all the songs have been written by him and his friends and recorded in New Zealand.
The strongest theme is the significance of worship when we are in the dark times of trial and suffering. For example track 2, "We Live in the Shelter", which is the theme song for the album, was written in Nelson at a time when David's wife, Liz, was facing serious health issues. The song has a haunting refrain, affirming that God who we trust is our refuge and fortress. It features Wayne Huirua's playing and production, and cellist Alex Smart.
All the songs are scripture-based and often inspired by the lives of biblical and modern-day saints. In the Heavenly Man book, the worship of the Chinese prisoner, who was strengthened by singing scripture, was the basis of track 3, "As Long as I may Live", with its answering phrase "I will only love my Lord".
Track 7 – a new version of Fannie Crosby's "Rescue the perishing" – was inspired by the lives of Mother Teresa and Jackie Pullinger.
This is a great album, with songs that will lead you into worship, interspersed with prayers, and closing with an instrumental epilogue as the instruments are played under the influence of the Holy Spirit. Every word is crystal clear and the presence of the Holy Spirit evident throughout. It will have a wide appeal, with tracks that have a rock feel, along with those that feature acoustic guitar, or strings and choir, more strongly.
Fay McNeil
Daystar NZ
'Trust' based on Psalm 91
This is David's 10th album but the first recorded in his homeland of NZ. All the songs have been written by David and friends, and the strongest theme is how we find an expression of worship in the dark place, and in times of trial and suffering. The songs have been written in the context of 3 years of ministry at St Georges Epsom, and in David's travels in ministry throughout NZ and overseas.
Digital Preview & Purchase
℗ & © 2007 Tevita Music, PO Box 99655, Newmarket, Auckland, 1149, New Zealand – All rights reserved
The Band
David Lyle Morris: lead vocals, acoustic guitar
Lynette Easton: flute, vocals
Sef Ulugia:drums, djembe, vocals
Dave Cullen: acoustic and electric basses
Steve Voisey: electric guitars
Special guests courtesy of Parachute Music
Wayne Huirua: electric & acoustic guitars, keys, vocals
Libby Huirua: vocals
Strings
Alex Smart: cello
Lucy Bone: violin
Helen van Druten: violin
Choir: 30+ from St George's plus friends
Produced by Wayne Huirua, courtesy of Parachute Music
Edited and mixed by Wayne Huirua
String arrangements by Wayne Huirua and Alex Smart
Live Sound by PA Sound
Post Production at Simpli Studios
Cover design: Jon E Clist 
Glory to God our Father
2 Corinthians 1

Why we suffer, and how our comfort can overflow to others lives.
Inspired by our friends David and Jane Peters, soon to release their first book on how to find hope in Jesus through suffering.

Glory to God our Father
The Father of all compassion
You are the source of every mercy
God of comfort, in you our hope is firm
Just as the sufferings of Christ flow into all our lives
Also through Christ our comfort overflows
That we might not trust ourselves
but learn to trust in God
We set our hope, that you'll deliver us
Now it is God who makes us stand firm in Jesus Christ
You set your seal of ownership on us
You have anointed us, put your Spirit in our hearts
A deposit guarantees what is to come
All of our suffering and trials, they won't last very long
They work for us, a glory up above
So we won't look at what's 'seen'
but to that which is of God
For the joys to come, will last forevermore
Almighty God we trust, in you our hope is firm
We live in the shelter (God who we trust)
Psalm 91
The theme song for the album, with a haunting refrain, featuring Wayne Huirua's playing and production, our choir and cellist Alex Smart. Written in Nelson at a time when David's wife Liz was facing very concerning health issues.
We live in the shelter of the most high God
We rest in the shadow of the almighty one
You are our refuge and fortress
God who we trust
God who we trust… Our shelter
God who we trust… Our refuge
God who we trust… Our fortress
Almighty one
When times of trouble surround us
Under your wings you will hide us
Battles may rage all around yet
You will keep us from harm
If we'll make our home in your house
Living each day in your presence
Running to you for refuge
You will keep us from harm
When all we see is the darkness
Enemies rush to destroy us
A thousand may fall at our side yet
You will keep us from harm
As long as I may live (I will only love my Lord)
One of the most popular songs we have used live from the album so far, with its simple answer phrase 'I will only love my Lord'. Based on the worship of the Chinese prisoner in 'The Heavenly man' book, who found he was strengthened by singing the Word of God as he was imprisoned.
As long as I may live
I will only love my Lord
With all my heart and strength
I will only love my Lord
Whatever is happening
I will only love my Lord
In all my words and actions
I will only love my Lord
In humility, defeat
I will only love my Lord
In joy and victory
I will only love my Lord
Whether hungry or full
I will only love my Lord
I'm His in life or death
I will only love my Lord
Jesus sacrificed His life for me
My deadly sin has been pardoned
I will dedicate my life to him
I will only serve my Lord
Drawn from every tribe
Revelation 7
An anthem based on the throne room worship of every tribe and tongue before the throne of God in Revelation. Written with our mentor Faith Forster in Ichthus London. She helped Liz very much with her book 'A time to wait'.
Dawn from every tribe, every tongue and nation
Gathered before the throne
Casting down their crowns, they fall at his feet and
Worship the Lord alone
What a glorious sight, dressed in robes of white
Washed by the blood of the Lamb
Singing
Praise and glory, wisdom and thanks
Honour, power and strength
Be to our God, forever
And ever amen
We are those who follow
Through scenes of fiery trial
Drawing from wells of grace
Through the darkest valley, from the depths of pain
We'll come to that holy place
We will overcome, by looking to the Lamb
And worshipping face to face
Singing.
Never will we hunger, we'll no longer thirst, there's
Shade from the heat of day
Led to springs of life, Jesus our shepherd
Will wipe every tear away
Our God upon the throne, will shelter all his own
Who worship him night and day
Singing.
All glory, and honour, and power to Jesus (repeat)
Forever, and ever, and ever, and ever (repeat)
Amen
Prayer – David Lyle Morris
We offer you our lives
A responsive song to Christ's sacrifice and suffering. Beautiful work from the choir and string section.
We offer you our lives our Saviour
Our counselor, our friend and King
We choose to walk with you, through suffering
Until the day you come again
A Man of sorrows, humble King
Familiar with all suffering
Despised and we esteemed you not
You took up all our shame and sin
with everyone considering
You rejected, abandoned by God
In light of your sacrifice
Unless a seed falls to the ground
And willingly lays down it's life
It bears no fruit,
remains a single grain
But if it dies the plants will grow
Producing many times again
A hundred-fold of what is sown
So this is our sacrifice
We want to know you more
Share in your suffering
We want to know you more
To know your risen life
In light of your sacrifice
We want you, we need you
We love you Lord
With all our heart
We honour you, we worship you
We serve you Lord
With all our strength
Rescue the perishing
A new version of the great Fanny Crosby hymn. Inspired by the lives of Mother Theresa and Jackie Pullinger. Sterling work from Steve Voisey (producer of Cindy Ruakere) on guitar!
Rescue the perishing,
care for the dying
Snatch them in pity,
from sin and the grave
Weep over erring ones,
lift up the fallen
Tell them of Jesus, the Mighty to save
Rescue the perishing,
care for the dying
Jesus is merciful,
Jesus will save
Though they are slighting Him,
still He is waiting
Waiting the penitent child to receive
Plead with them earnestly,
plead with them gently
He will forgive, if they only believe
Down in the human heart,
crushed by the Tempter
Feelings lie buried
that grace can restore
Touched by the loving hand
wakened by kindness
Chords that were broken,
will vibrate once more
Rescue the perishing,
duty demands it
Strength for your labour,
the Lord will provide
Back to the narrow way,
patiently win them
Tell the poor wanderer,
a Saviour has died
There was a boy (One true God)
Featuring Wayne Huirua
A story of Jesus' life in a modern hymn format, featuring Wayne's beautiful acoustic guitar paying and David's vocal all taken in one pass!
There was a boy who loved his father's house
Who all richest treasure shared
He could confound the wisest counselors
With all the knowledge he possessed
His mother treasured in her heart
All the angel declared
Every hope down through the ages
In Jesus Christ a little boy
That boy grew in the favour of His God
And in all stature with His kin
His gentle hand fashioned the finest things
He took the mantle of a King
He turned the water in to wine
He made a blind man see
He brought salvation to the captive heart
Jesus Christ a fulsome man
What kind of King lays His life down
Who walked the path that we trod
It's Love Divine all-surpassing
In Jesus Christ, the One True God
That man then shouldered a cruel cross
And willing suffered all disdain
He carried all our wretched suffering
Our disillusionment, our shame
They mocked him and they crucified
The King above all kings
Asked His father to forgive their sin
Jesus Christ the risen Lamb
He rose again on resurrection day
And rolled the stone of death away
His friends came running to His empty tomb
For forty days with them remained
He entered into glory then
His Spirit left within
He will return for all the longing hearts
Jesus Christ our conquering King
Jesus Christ the Holy One
Psalm 22
David often teaches on worship from Ps 22, and wanted to write a song that captures some of the aspects of all generations and peoples coming to Jesus, promised in the Psalm.
Jesus Christ the holy one
Praise of nations holy one
We will not forget your love
We hope in you
The poor will eat at Jesus' feast
All the seekers praising him
May our hearts live forever
The rulers of the nations bow
All the pow'rful humbled now
The pow'rless kneel before you too
Generations come, to
The nations fall at Jesus' feet
Give you praise and glory
You have never let us down
Children are adoring you
See the miracles you do
hear good news in Jesus' name
God does what he says, in
Prayer – David Lyle Morris
Psalm 22
The joy of the Lord
A song based around these well-known verses, but in the context of Hebrew culture and with the sense of repentance we find in Nehemiah 8.
The joy of the Lord is our strength
The joy of the Lord is our strength
Saviour restore us again
The joy of the Lord is our strength
We fall on our knees
Faces to the ground
Listening to your word in awe
Conscious of our sinfulness
Crying to the Holy One
Lover of our souls
You shine your light on us
Blessing us with grace anew
Unworthy of Your righteousness
You redeem us with your love
The Spirit of the Lord
Is anointing us
To share good news with the poor
Healing broken hearts
Freeing captive souls
Father we dedicate our lives (Now arise God)
A hymn previously recorded on the 'Live in Ireland' album which is based on Solomon's prayer of dedication. Seems to particularly ring a bell for our nation of NZ. Has also been used in Fiji, Finland and Ireland where nation unity and repentance are key issues.
Father we dedicate our lives to you
In this covenant of love, sealed in Jesus' blood
May your eyes be open to this temple, all day and night
May you hear the prayers of your humble servants
Hear from heaven, forgive our sin
Hear from heaven, uphold our cause
Show us the right way to live
Send the rain of your Spirit
On this land you gave as our inheritance
Now arise God, come to your resting place
Your rightful place at the centre of our lives
And in the nation
Now arise God, come to your resting place
We'll fear you, and walk in your ways
Father we kneel before your throne of grace
Lifting open hands to heaven, thankfully we pray
We ask you to build a house with us, the living stones
Built upon the Rock, glorifying Jesus
Jesus only you know the people's hearts
We pray all will know your name, fear and worship you
We long thy return, surrendering their heart and soul
Pleading for your grace, seeking ands of mercy
Love is patient
1 Corinthians 13
David wanted to write a corporate song which encapsulates the themes of love from this well-known scripture. The concept is that we can sing to God, as He is 'Love', but also sing about 'Love' as we aspire to the characteristics of love that are fleshed out in this passage.
Love is patient, love is kind
Does not envy, does not boast
Love is not proud, it's not rude
Never seeks after its own
Love is not so easily wronged
It keeps no chart
of harm that's done
Love does not with evil run
Rejoices always with truth
We fail in love
But love never fails
Love always covers
Love will ever trust
Love's always hopeful
Love will ever last
Forgive us Lord
Teach us to love
Before our God (We in Christ are one)
Galatians 3:26 – 29

David was inspired by the teaching of Mark Strom in the area of our genuine oneness in the New Covenant. Written while David was in Fiji in June 06.
Before our God we are undone
But now in Jesus we may come
For rank and status have all gone
We in Christ are one
We live a life that's not our own
Before the King cast down our crowns
Not our will but yours be done
Every tribe and nation come
We choose the way of love
The poor may rise above
We walk in humility
Many captives set free
Unity Prayer – Liz Morris
Liz is David's Scottish wife and integral to their ministry as a family and within Restore Trust. She has a strong calling to the prophetic and healing in Jesus.
Who can separate us?
Romans 8
A ministry song which has been in David's live set for many years where the band often minister in amongst the people.
Who can separate us from the love of God
That is in Christ Jesus our Lord?
Shall trouble of hardship or persecution
Famine or nakedness
Danger or any weapon used against us?
No in all these things, we are more than conquerors
Through him who loved us
That is Christ Jesus our Lord
Jesus is Lord.
Neither death nor life, angels nor demons
Present nor things to come
Not height nor depth, nothing in all creation
Will be able to separate us from the love of God eternal
That is Christ Jesus our Lord
Jesus is Lord…
Who can seperate us…
Instrumental Epilogue
David's team of musicians love to explore the area of ministry through music, the power of instrumental music played under the anointing of the Holy Spirit, to touch hearts and lives and bring healing. We wanted to reflect this in allowing the 'tape to roll' as we played out this song. Features our flautist Lynette Eaton and the string section.